2017成績優異考生音樂會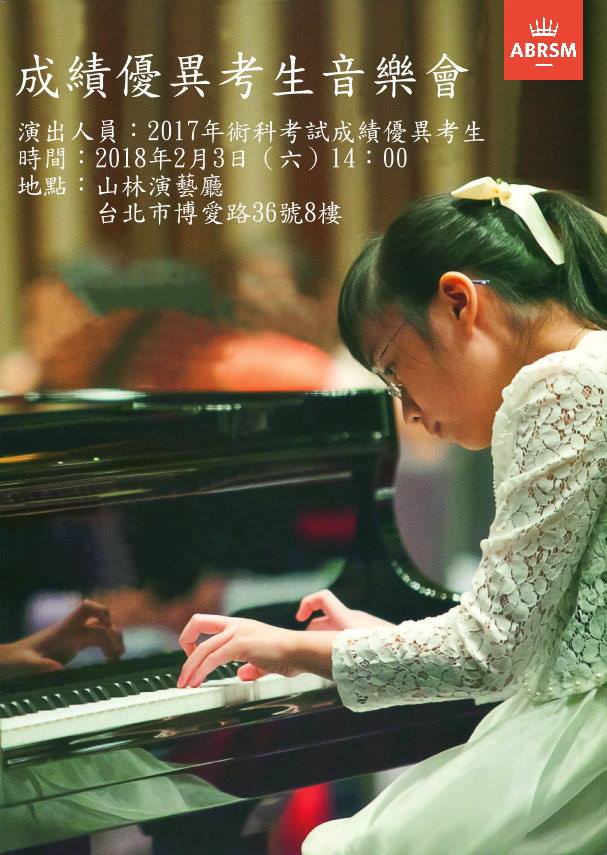 有一些考生除了總分成績優異以外,
還在單首曲目中得到滿分的成績!
可喜可賀!
我們除了對他們平日的練習和美感的詮釋感到敬佩,
更希望您一同來分享這樣的學習成果!
票價:100/人
演出節目單:
HUANG, SHEN-WEI 黃紳瑋
PIANO G2
Smetana:Waltz in G (No. 2 from Poklad melodii, Vol. 2)
CHEN YI-HSUAN 陳奕
PIANO G2
Trad. Scottish: The Piper o' Dundee, arr. Michael
LIAO, I-CHIEN 廖宜倩
PIANO G2
Schmitz:Gospel Flair (No. 43 from Mini Jazz, Vol. 1)
YEH, YU-HSUAN 葉鈺璇
PIANO G3
Handel:Sonatina in G, HWV 582
WU LIANG YUN 吳亮鋆
PIANO G3
"Mozart :Romanze (2nd movt from Eine kleine
Nachtmusik, K. 525), arr. Virgo"
YUN-LIANG, LIN 林昀亮
PIANO G3
Handel:Sonatina in G, HWV 582
YU, DO 余茤
VIOLIN G4
Paul Desmond:Take Five, arr. Huws Jones
LIN, CHIH-TUNG 林芷彤
FLUTE G4
Honegger :Romance
HSIN-YU CHANG 張心瑀
PIANO G4
"Ben Crosland :Bow-Chicka-Wow-Wow (No. 7 from Cool
Beans!, Vol. 2)"
LI, YEN-LING 黎彥伶
BASSON G4
David Ferdinand: Bassoon Concertino, Op.12 Mov.I I
SUN CHUNG-WEI 孫鍾維
PIANO G5
Shostakovich:Gavotte (No. 2 from Dances of the Dolls)
LIN, LIANG-HSIN 林亮心
VIOLIN G6
Nigel Hess:Theme from Ladies in Lavender
CHEN, CHIEN-AN 陳建安
VIOLIN G8
"Beethoven:Allegro: 1st movt from Sonata in F ('Spring'), Op. 24. No. 5 from Beethoven Sonatas for Piano and
Violin, Vol. 1 (Henle HN 7)"
FU, TZU-HSIN 傅賜新
PIANO ARSM
Glinka:L'Alouette. (The Lark)